post deleted
Mon 24 Jul 2017, 16:09 by fredothedictator
Comments: 2
Sunset Koi Angelfish
Sun 16 Oct 2016, 19:30 by MatthewHalliday
Comments: 3
WANTED Bugarian Greens/Albino Dantum
Sun 19 Jun 2016, 02:04 by Toondog
Comments: 0
Page 2 of 2 •
1, 2
Looking fantastic Rob

Ghipsi

Admin




Posts

: 561


Join date

: 2012-02-06


Age

: 48


Location

: North Wales UK



The colouring is VERY nice Rob. Flame looks stunning
Dave

baldyman




Posts

: 77


Join date

: 2012-02-12


Location

: Ellesmere Port



Time for an update,
I've kept 12 koi and 2 gold marbles from the latest batch to grow on, in general those with the best colour seem to be the slowest growing, still they're only 5 months old so they're not doing too badly....

_________________
Blessed are the cheesemakers!

Pterophyllum




Posts

: 1554


Join date

: 2012-02-08


Location

: Gloucestershire



Fantastic couverage Rob, and the amount of black marbeling looks stunning!!

Ghipsi

Admin




Posts

: 561


Join date

: 2012-02-06


Age

: 48


Location

: North Wales UK



wow they are looking great Rob the coverage is very nice whats your secret for such deep colouring as i know you dont colour feed.

uk bulldog




Posts

: 419


Join date

: 2012-02-09


Age

: 57


Location

: london



whats your secret for such deep colouring
No secret, in fact when I visited Lisa earlier in the year, she was showing me some of her koi youngsters which seemed to be very similar in colour to the ones I'm producing at the moment; her adult fish were very nice and one in particular was stunning!
Brine Shrimp contains lots of carotine, so although I don't colour feed, they do get a fair bit naturally in their diet.
Beyond that, there's been a fair amount of trial and error, but as detailed at the start of this thread, I try to keep the level of inbreeding to a minimum.
All the gold marble genes in my current koi project are derived from 5 fish (although I may add some from a different line I'm working on in a generation or two, depending on the results of some breeding experiments I'm doing),
Of the five fish, in terms of colour one was a fairly mediocre female koi (called marmalade) :-
I mated her to a smokey and also to a gold marble ghost with somewhat better finnage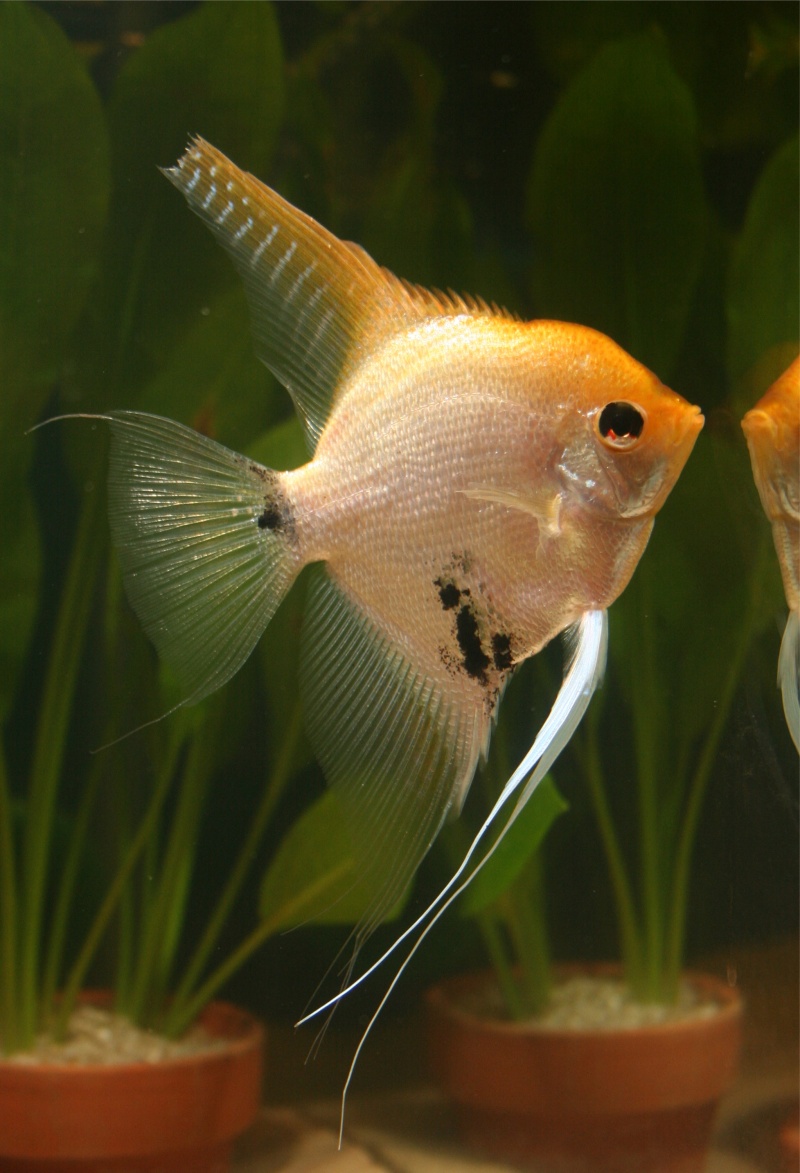 Meanwhile I also had a couple of better coloured, but really grotty (in terms of size, body shape & fins) koi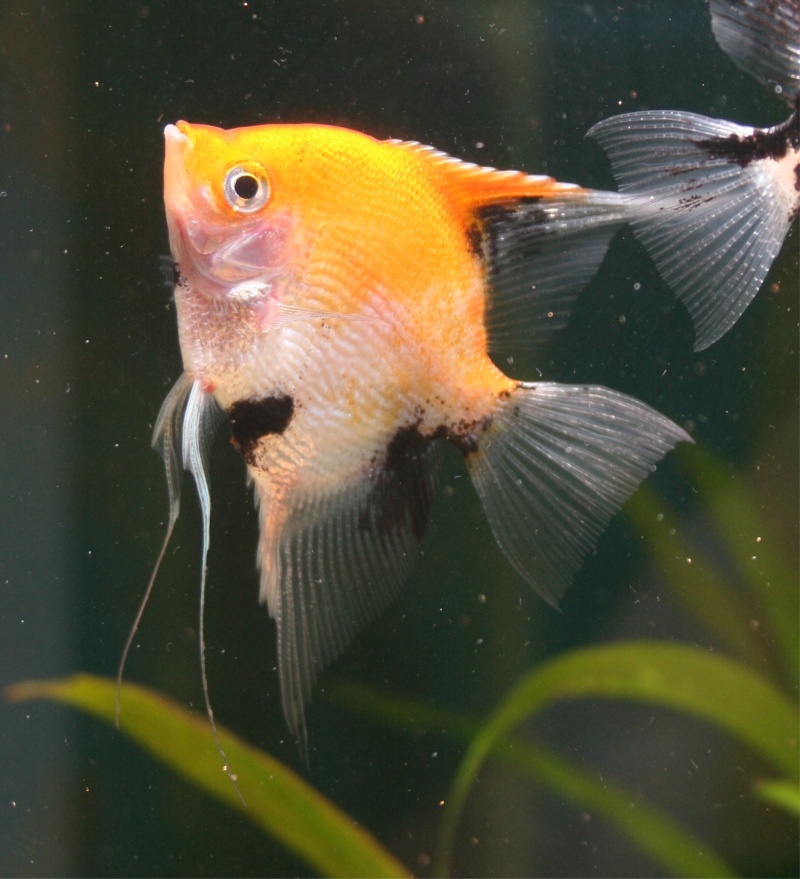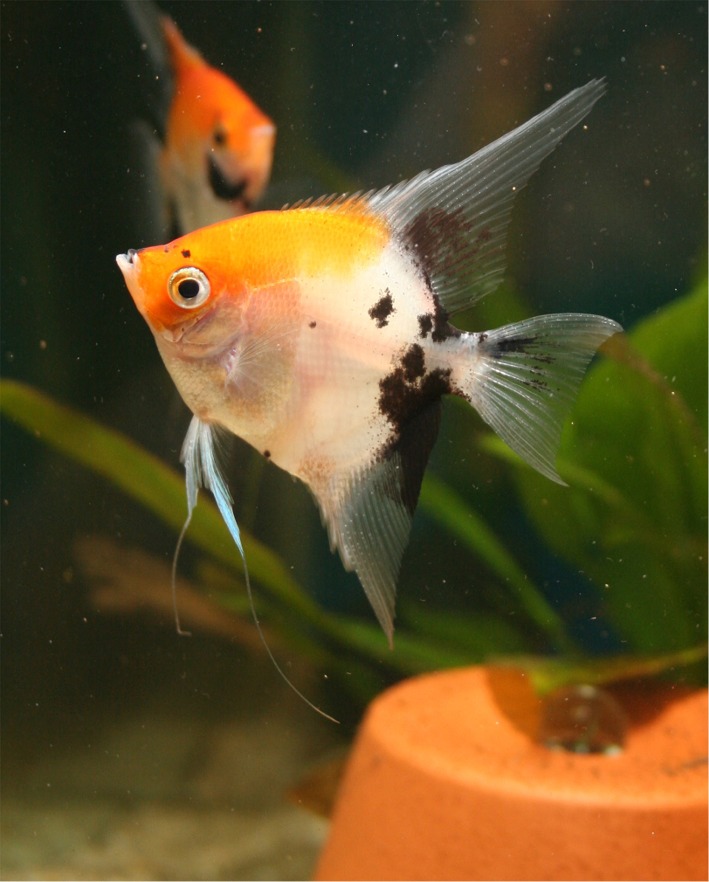 I think this second pair were already quite inbred and they produced a lot of culls, and some very odd looking fish, but one was particularily special....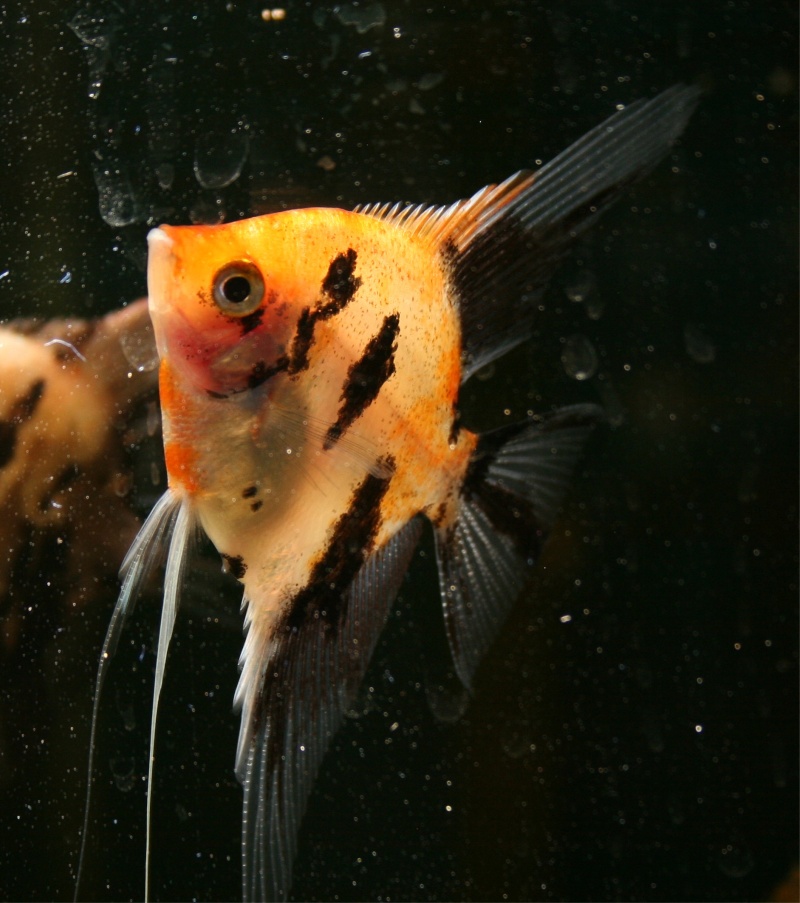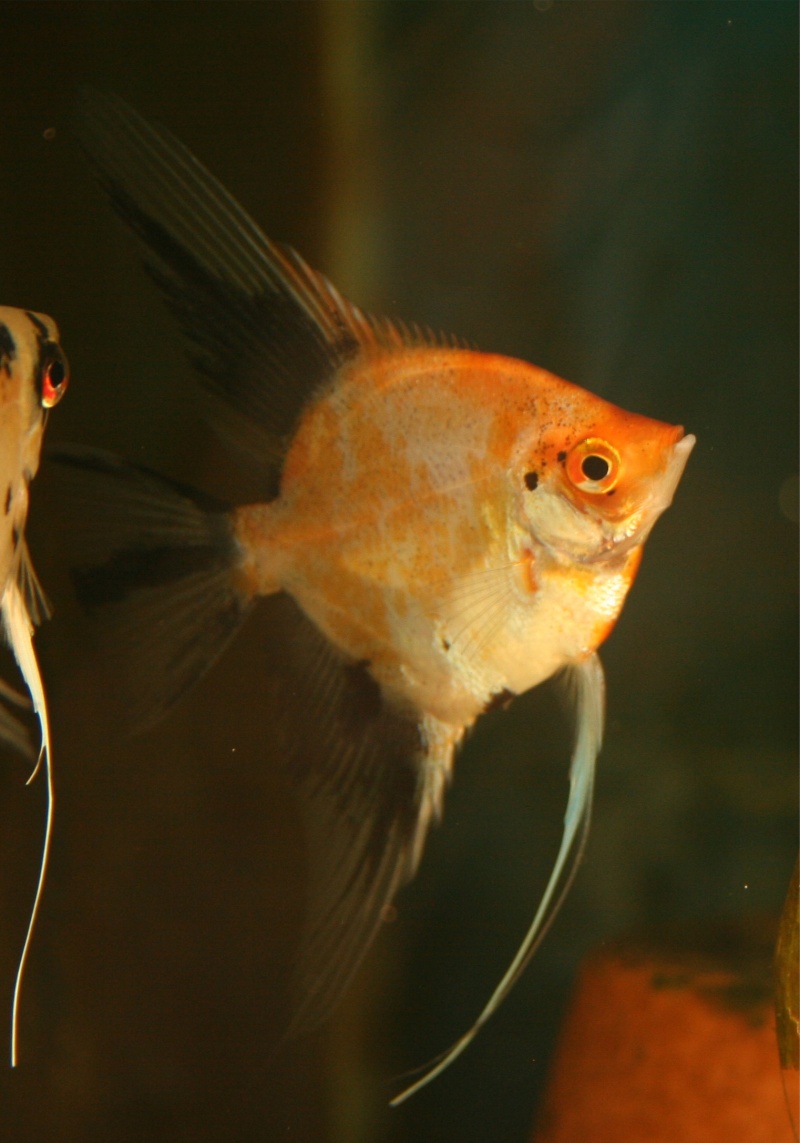 This male (Called Dusty) was mated to a female from each of the "Marmalade lines"
From here it gets complex!
Before I got the shipment of Ken Kennedy fish in, I was working to produce my own line of blues, these all derived from one platinum female who was mated to a gold angel, and also to another platinum. When I got Ken's fish to work with I bred various of his fish to various golds (het pb), platinums or smokeys (het pb) from my existing "blue" project.
All six of dusty's offspring were mated either to platinums from the platinum pair, or to descendants from one of the pairings with Ken Kennedy fish, one of those Ken Kennedy fish was a paraiba koi.
Since then I've carried out several pairings, but all of the latest pairings are designed to bring together different lines which have Dusty as an ancestor.
It seems to me that, in general, the better coloured koi seem to have poor size, body shape and fins, like the second of my original pairs, so the main focus of my latest pairing was to try to get some colour whilst improving fins & body, it seems to have worked!

_________________
Blessed are the cheesemakers!

Pterophyllum




Posts

: 1554


Join date

: 2012-02-08


Location

: Gloucestershire



Hi Rob i would have to agree with what you said regards the better coloured Koi being smaller with poor body shape & finnage,as i have had lots of my koi with good body & finnage but very little in colour intenserty even though i had tried to put good sized fish with good finnage with smaller fish that had good colour but never seemed to get a good mix or even a fair percenage of fish that had good body finnage & colour,& to be honest even though i thought i had the start of the deep colour showing it was only at a young age but always appeared to washout as the fish aged & got very dishartening & i have now given up with the koi as no mater what fish i used i always seemed to get the same results,so i take my hat off to you for what you are acheiveing & your peristance.

uk bulldog




Posts

: 419


Join date

: 2012-02-09


Age

: 57


Location

: london



Page 2 of 2 •
1, 2
Similar topics
---
Permissions in this forum:
You
cannot
reply to topics in this forum