post deleted
Mon 24 Jul 2017, 16:09 by fredothedictator
Comments: 2
Sunset Koi Angelfish
Sun 16 Oct 2016, 19:30 by MatthewHalliday
Comments: 3
WANTED Bugarian Greens/Albino Dantum
Sun 19 Jun 2016, 02:04 by Toondog
Comments: 0
I have two blues that have paired up, one is a smokey pearlscale, the other I assume is a chocolate as she's much darker.
The fry from what I can see seem to be at least 50% Zebra, they're obviously very small but I can definitely see lots of stripes. From previous spawns (not these two but similar) I had straight forward smokey silver and marble, any idea what I've introduced to get zebra? and so many??
Confused.com #genetics #all too much!

bridgegirl99




Posts

: 316


Join date

: 2012-09-10


Location

: Kent



Some photos of the parents would help, but.....
Smokey x Chocolate should give just smokeys & chocolates, but smokeys x smokeys would result in some silvers.
It can be quite difficult to spot the tell tale signs that a smokey or chocolate is actually a leopard, (ie also has a zebra gene) the clue is in the dorsal fin pattern :-
Smokey blue
Leopard Smokey blue
Note the difference in the dorsal striations.
However since you mention that the fry are very small it's worth pointing out that :-
1. The smokey/chocolate pattern only starts to develop when the young are about 5-6 weeks free swimming, before that the banding develops normally, and then changes in a matter of a few days.
2. Young silvers can have a zebra like pattern for the first few weeks or even couple of months of their development.

_________________
Blessed are the cheesemakers!

Pterophyllum




Posts

: 1554


Join date

: 2012-02-08


Location

: Gloucestershire



Thanks Rob,
I've tried to upload some pictures, what a nightmare!!! not user friendly lol, they're also pretty poor from my phone, and round the wrong way but hey ho!!!
Dad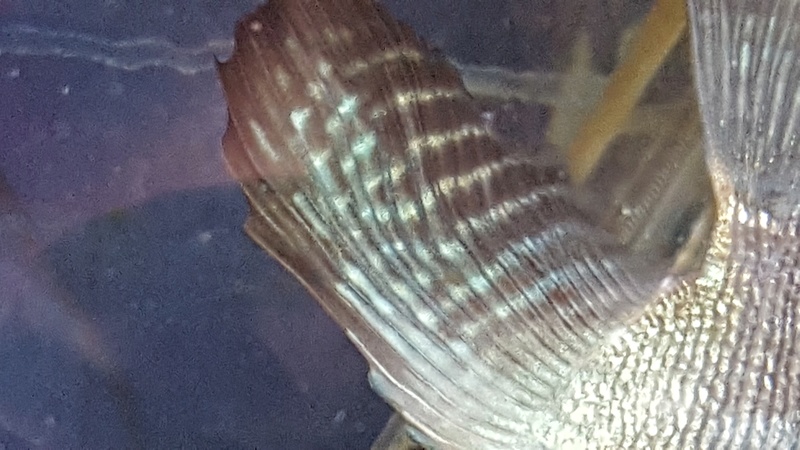 ]
Fry
Mum
I'd be interested if you can make out anything from them thank you

bridgegirl99




Posts

: 316


Join date

: 2012-09-10


Location

: Kent



OK,
probably the most useful photo is the middle one, as at that stage I wouldn't expect to see smokey/chocolate patterning yet, or to be able to differentiate between zebra and silver offspring. So for the moment there's no mystery to solve.

The dorsal striations aren't as conclusive as I would hope....

Basically, non zebras generally have unbroken striations widely spaced, whilst zebras have more closely spaced striations which tend to break into spots or vertical lines.
Unfortunately this simple rule is only a guide rather than an absolute. Some wild types, and their captive descendents can have zebraesque striations, and some zerbas don't have 100% typical striations. None the less, I'd be reasonably confident that neither parent has a zebra gene. If proven wrong I'd say the pearlscale was the more likely carrier.



_________________
Blessed are the cheesemakers!

Pterophyllum




Posts

: 1554


Join date

: 2012-02-08


Location

: Gloucestershire



OK thanks Rob, I'll wait and see
I've never noticed stripes like that before, maybe I've never looked close enough lol

bridgegirl99




Posts

: 316


Join date

: 2012-09-10


Location

: Kent



Similar topics
---
Permissions in this forum:
You
cannot
reply to topics in this forum