post deleted
Mon 24 Jul 2017, 16:09 by fredothedictator
Comments: 2
Sunset Koi Angelfish
Sun 16 Oct 2016, 19:30 by MatthewHalliday
Comments: 3
WANTED Bugarian Greens/Albino Dantum
Sun 19 Jun 2016, 02:04 by Toondog
Comments: 0
Hello,
I'm wondering what Angel I have here..? 75% sure she's female, but obviously this isn't guaranteed till spawning!
She has some blue on her but its hard to catch this on the camera!
Thanks!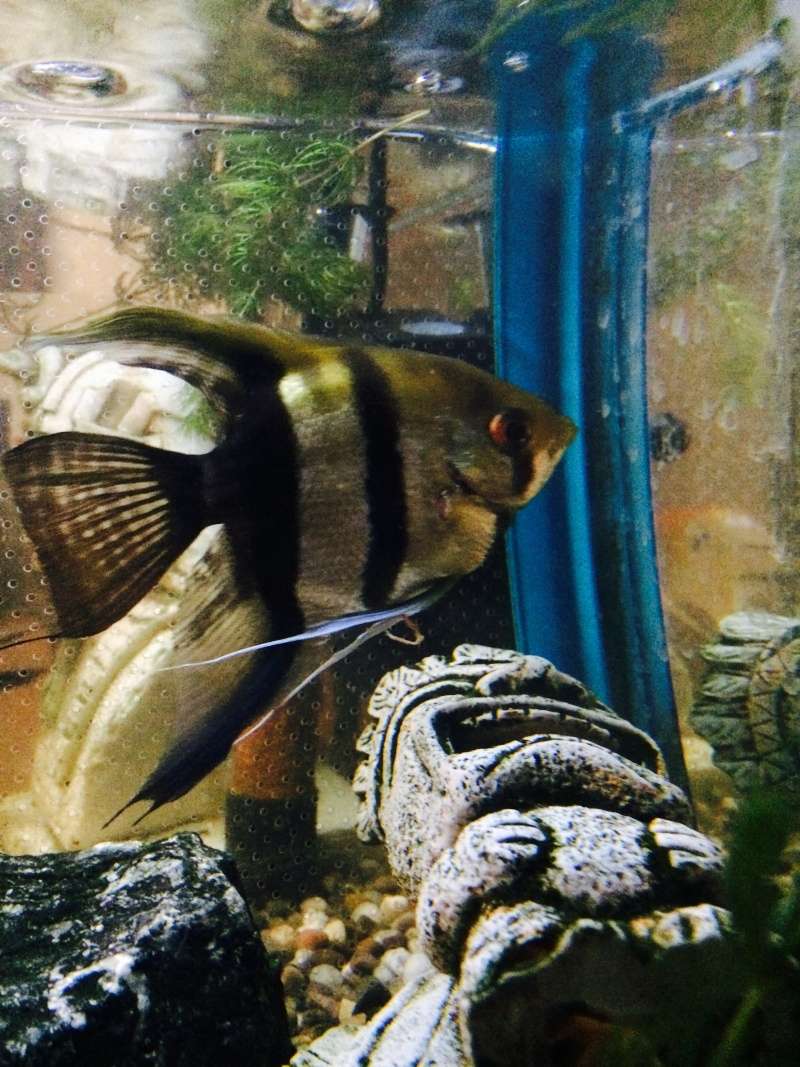 MRJM_Angels




Posts

: 2


Join date

: 2015-05-24


Location

: East Anglia



Sometimes, without doing a test cross, it's hard to be absolutely sure what you have.
At first glance it looks to be a silver, but there's something going on at the rear, there's odd marks at the top of the anal fin & rear of the dorsal fin, which could be down to some sort of marble gene, but I suspect, when you take the darker than normal tail and the darkness between the tail band & rear body band into consideration, it may be an incompletely expressing half black.
Half black is a slightly problematic variety in that it results from a recessive gene, but environmental, and possibly other genetic influences too, cause a fish that's genetically half black to develop as a normal silver, or only partially express.
A fully expressed half black looks like this :-

_________________
Blessed are the cheesemakers!

Pterophyllum




Posts

: 1554


Join date

: 2012-02-08


Location

: Gloucestershire



Thank you very much. I wasn't ever sure if it was a Half Black or Silver! As you say, both her anal & dorsal fins are slightly off in coloration!
Thanks again!

MRJM_Angels




Posts

: 2


Join date

: 2015-05-24


Location

: East Anglia



Of course, the Half Black and Wild Silver traits aren't mutually exclusive, so it's not one or the other, but likely a combination of both: a Silver Half Black, which genetics calculators tend to describe as just 'Half Black'.
Personally, I think Wild Half Black is more descriptive
obviously wildreddeer is the man for sexing accurately but I keep looking at the first photo and can't help thinking it looks like a male to me. There looks to be the beginnings of a nuchal hump growing

Akasha




Posts

: 492


Join date

: 2014-07-28


Age

: 49


Location

: Yorkshire, England



Hard to tell, but following visual guidelines I came to the same conclusion Akasha, that it's a male angelfish.
Knowing nothing about the parents, broadly speaking, there's a 12.5% chance ( 1 in 8 ) it's a male and homozygous halfblack.
Last edited by Deans_Angels on Wed 03 Jun 2015, 16:10; edited 1 time in total (Reason for editing : Emoticons got in my way)
Hi and welcome,

Sorry if I'm the tiding of bad news but you have a fine looking male there.

http://www.uk-angelfishforum.org.uk/t417-how-to-sex-your-angelfish.

Is where I have posted guidance for sexing Angels. It might seem a bit complicated at first but give it time and you will find it very straight forward.

You won't see much of me on the forum, as due to health I had to pack it all in. But I just can't let it go. So hence I'm still around.

Good luck with your Angels.

Phil.

wildreddeer




Posts

: 217


Join date

: 2012-02-15


Age

: 70


Location

: Nairn, Scotland



Similar topics
---
Permissions in this forum:
You
cannot
reply to topics in this forum