post deleted
Mon 24 Jul 2017, 16:09 by fredothedictator
Comments: 2
Sunset Koi Angelfish
Sun 16 Oct 2016, 19:30 by MatthewHalliday
Comments: 3
WANTED Bugarian Greens/Albino Dantum
Sun 19 Jun 2016, 02:04 by Toondog
Comments: 0
I had a problem with my water quality, well I think I did, the Angels were looking distressed, so I did tests, everything fine except the ammonia, self inflicted I'm afraid, anyway, I did a huge water change, realised my filters were clogged up
, sorted, more water changes, more testing, Ammonia test ran out, so I cracked open some new bottles...... tested........ water perfect................ hmmmmmm, anyway no sign of a nitrite spike, so either the test was wrong, or I managed to get back on an even keel quickly.
Back to the Angels, after the first water change, they were fine, no fatalities, eating (when I fed them a couple of days later) in their usual ravenous way, calm descended but one Albino pearlscale has a red nose, its been like that a couple of weeks now, he looks fine, eats well, is out in the front with the gang, so my question, is there likely to be another underlying problem, or could it be down to the bad water and will right itself or should I be treating the tank with something?

bridgegirl99




Posts

: 316


Join date

: 2012-09-10


Location

: Kent



could it be down to the bad water
Probably
will right itself
Probably
should I be treating the tank with something?
Probably not, the danger being that any treatment might just hit the water quality. If the fish goes off it's food, the redness seems to be getting worse or other fish start developing similar symptoms, I'd treat initially with Octozin, and if that doesn't do the trick, with ESHA 2000.

_________________
Blessed are the cheesemakers!

Pterophyllum




Posts

: 1554


Join date

: 2012-02-08


Location

: Gloucestershire



Ok thanks Rob I'll keep my eye on him

bridgegirl99




Posts

: 316


Join date

: 2012-09-10


Location

: Kent



It's always worth giving the filters a quick tickle from time to time, it doesn't take long for the flow rates of filters to drop.
Seems as though the tough filter bacteria survived, but it wouldn't hurt to add some filter boost, though if your ammonia is 0 and it stays like that then I wouldn't bother. I think I'd have red nose if you stuck me in a tank of ammonia, so give it some time and follow Robs advice
<ouch
Thanks Dean, yes VERY remiss of me! Fry tanks were getting regular attention, but my display tank got temporarily forgotten!
While we're talking tanks, a bit off topic, does anyone have experience of BOYU? I have a lovely 4' one that currently houses Rainbows, but the built in filter is doing my head in! ( I do have an external running as well) The instructions were in Chinese/non existant, so we made it up as we went along! We've put bio media in the boxes along the top, I also laid filter wool over the top of that, and it does a good job of taking most of the crud out, the water then goes into the end chamber where it goes back into the tank, I originally had nothing in there, but the noise was driving me mad! I found if I put one last bit of filter wool over the hole, it went quiet, but during the course of the week, the filter wool clogs up and the water starts to back up and overflows back into the tank at the "start" end, now making a dripping sound!!
The obvious solution is to rip it all out and put in another external, but as its only a few months old I thought I'd try the original, has anyone a better method?

bridgegirl99




Posts

: 316


Join date

: 2012-09-10


Location

: Kent



Thanks for the thanks, but don't encourage me, I've got angels on the brain now!
Not sure about that filter system. I'm presuming it was a trickle noise rather than the humming of a water pump. Some sponge for the water to travel down can help reduce a trickle sound. Tube / pipes can also help but there might not be anywhere to connect those. Filter wool is great, but if it's covering a hole of say 15mm though which all water will travel, it will clog in no time at all. It would be a bit like stuffing filter wool down the tubes of a canister filter!
Filter wool is best spread over a wide surface area. You might be better using foams, running from course to medium to fine. That way, the muck stays out of your bio media and you could use filter wool in the final stage, in the knowledge that there would be less matter hitting it.
On a large 4' tank (in the distant past) I've used an external canister filter to do the donkey work, while using an internal filter to function as a 'water polisher'. The canister filter didn't get cracked open very often, it didn't have any fine media in it and therefore didn't clog up, keeping a strong flow. The water polisher needed more regular attention, I think it was wholly or mainly filter wool. That said, it's that long ago, it could have been a fine sponge!
If something is new, it's easy to assume it's better, has value and should be used. A 99p lunchbox with holes drilled in the bottom filled with your media could work just as well if you direct the outlet of the external into it.
Maybe search YouTube for videos about the filter, to see what other people have made of theirs? Perhaps the last chamber was for the heater? who knows!
Thanks Dean, I did try you tube, but didn't find much of help, but I might have a swap about see if it helps.
On a happier note Mr red nose has got over his problem and is looking much happier!
All I need now is a lady friend for him! I seem to have far too many males!

bridgegirl99




Posts

: 316


Join date

: 2012-09-10


Location

: Kent



Oh that's good news, about the nose
Here's what I was thinking about keeping filters less clogged up, it may be helpful, it might not:
(I just thought I'd try a drawing for a change)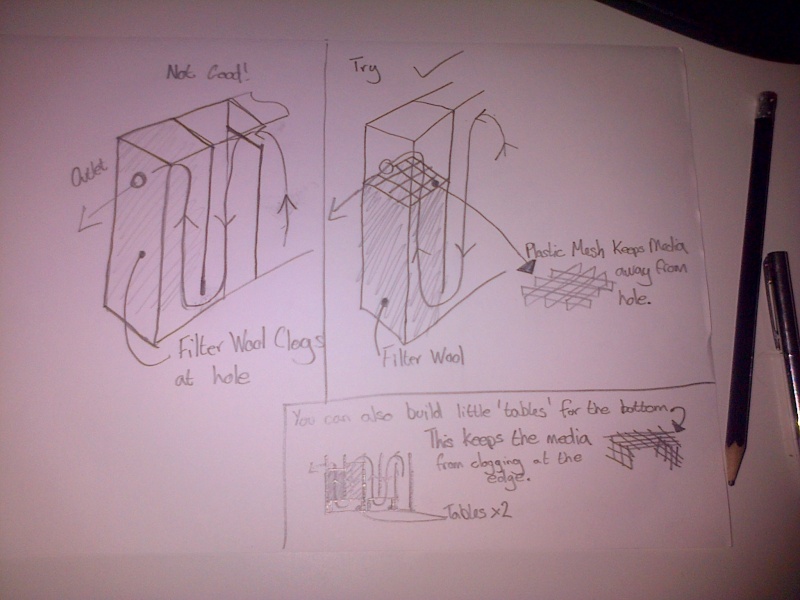 I've just added another 4 Bulgarians to my collection - so now I've got 10 - hope they're not all female!
The wood for my tank racks is here, so I'd better get on with it
Similar topics
---
Permissions in this forum:
You
cannot
reply to topics in this forum