post deleted
Mon 24 Jul 2017, 16:09 by fredothedictator
Comments: 2
Sunset Koi Angelfish
Sun 16 Oct 2016, 19:30 by MatthewHalliday
Comments: 3
WANTED Bugarian Greens/Albino Dantum
Sun 19 Jun 2016, 02:04 by Toondog
Comments: 0
Due to recent problems with water hardness i have bought a water softener to go inline with my HMA filter to see if this will have any affect,it has a 10 inch pod type houseing
& the cartridge that goes inside is a coconut carbon & water softener resin.
I have just filled one of my breeding tanks that houses a pair of Robs stunning Smokey Blue Marbles that are due to lay again anyday all going well with water that i have put through the filter & in a second breeding tank i have a Smokey blue marble & a Blue smokey in this tank i have put of lump of Oak that is leaching tannins along with a peat ball aswell as Almond leaves in the bottom of the tank all known for there uses in breeding of soft water fish.In a 3rd breeding tank i have another pair, an albino pearlscale & a chocholate blue marble the water in there tank is a mix of RO/HMA the HMA has not been through the softener & they have just laid so i hope to get differant results of which i will post as an update.

If you have tryd any of these in a hard water area what were your results as i would be very interested to hear.

uk bulldog




Posts

: 419


Join date

: 2012-02-09


Age

: 58


Location

: london



Hi Paul
Have used peat in the fillters to soften the water but it can be very dusty & messy in your tank
Also have used copper beech tree leaves after micro waveing them ,Both are very good at
softning the water, But you have got to watch your PH does not bottem out and kill your fish.
With both the above you can also get high levels of nitrate so be very carfull mate.
Not used Oak and not heard of any one useing it so can not say anything on the Oak.
The other thing with the peat is you can not see your fish with the dark tannings it releases, not
As bad with copper beech leaves but a pain picking the old leaves of a tree.
As i said befor i am lucky that there is a swimming pool / spa maintenance firm not to far away and
I can buy PH up and PH down granules that do the job after going through my fillters.
Cheers Tony

TONY,S ANGELS




Posts

: 157


Join date

: 2012-02-26


Location

: Kinmel bay North Wales



Here are my findings between the 3 differant water types i used.
Tank 1: SmokeyBlue Marble & Blue Smokey Pearlscale which had Oak in there tank with my standerd london hard water that had been through the HMA filter now have around 2/300 wrigglers.
Tank 2:Blue Smokey Marble pair which had my new water softening filter inline with my HMA filter laid & had no white eggs but ate the eggs after 48hrs but they may well have moved them as the female has done that before so i will keep an eye on them for 48 hrs just to make sure before i do a water change.
Tank 3:Chocolate Blue Marble & Albino pair which had standerd london hard water through the HMA filter but nothing else had all eggs go white after 30hrs.

So now i feel that the Oak works well for softening hard water but due to density of tannings makes it hard to see what is going on but provides the fish with the cover they require so as not to feel intimidated (This tank was only 6 inches from the floor & in the entrance to the room they are kept in).

The Water softening filter inline with the HMA does what it says on the tin & softend the water enough to allow eggs not to go white or fungus up but the young parents need more time to get it right.(This tank was approx 3ft off the floor & at the far end of the room away from the door)

The Hard london water through the HMA filter aloan is not good enough to allow the eggs to get to full term to hatch, as all seem to go white within a short space of time.(tank approx 3ft off the floor central in the room)

My next step is to try the Smokey Blue Marble pair in a mix of water through the water Softener & HMA filters along with Oak to see if this helps the young pair & water through the Water Softening/HMA fileters for the Chocholate Blue Marble & Albino pair to see how things go for them.All being well i will get better results from both pairs.
This is looking like it is going to be an ongoing trial so more results to follow as soon as i have them.

Paul..

uk bulldog




Posts

: 419


Join date

: 2012-02-09


Age

: 58


Location

: london



Hi Paul
Sounds like you have been putting a lot of time and effort into your fish / water
I hope all your hard work pay's off for you.
Cheers Tony

TONY,S ANGELS




Posts

: 157


Join date

: 2012-02-26


Location

: Kinmel bay North Wales



Hi Tony,
This is what i feel should be done as i need to nail done the reason why i have been loseing so many spawns & i hope i may have just got there regards the hard water.
I have spoken to so many disheartend fish keepers that have tryd to breed angels & other soft water fish down here in london but have failed & either gone on the breed hard water chiclids or given up the hobby all together,which i feel is a shame.
It doesnt take a rocket scientist to sit down & work out what the problems are as its just a process of elimination & im more than happy to try what i can inorder for me to get along with the hobby i enjoy.It may take a bit of time but to me its well worth the little bit of effort.
Due to useing one of the ways im trying i now have atleast 200/300 fry about to go freeswimming so im pleased im getting something right.
I spoke to a lovely woman at our local waterboard & she told me that due to all the old pipework being changed across london there will be lots of chemical changes being done over the next year or two so i need to be able to adjust the way i use the water to have a reasonable success rate with my breeding & keep my fish healthy.

uk bulldog




Posts

: 419


Join date

: 2012-02-09


Age

: 58


Location

: london



Here is a very dark pic of the wrigglers laid in the tank containing oak. All the wrigglers where moved to the top of the heater from the slate for some reason yesterday.If you are able to blow this pic up you can see the 200/300 fry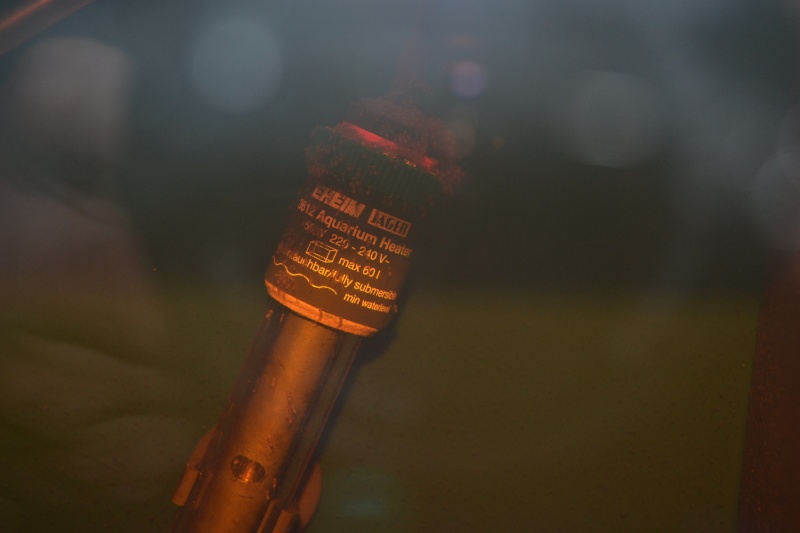 uk bulldog




Posts

: 419


Join date

: 2012-02-09


Age

: 58


Location

: london



Looks like your on the right track.
After having a lot of spawns go white myself I'm now trying Cattapa leaves in the tanks.
I was reading a fishroom build on another forum and they used multiple water butts, plumbed together for water storage and preperation. One butt was stuffed with bogwood and the water pumped back n forth through the butts.

spyderuk




Posts

: 91


Join date

: 2012-03-10


Location

: Rugeley, Staffordshire



Similar topics
---
Permissions in this forum:
You
cannot
reply to topics in this forum